Deliver precise constant voltage stimuli.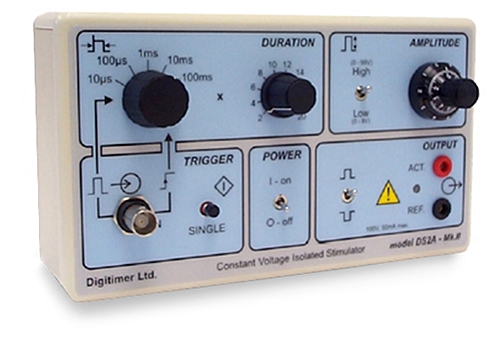 Digitimer DS2A Isolated Constant Voltage Stimulator
Brief pulses of electricity are used in various biomedical research applications as a stimulus to excite nerve or muscle fibers. Several factors need to be considered when choosing the right stimulator.
The DS2A Mk.II provides a precise Constant Voltage stimulus (up to 100V) controllable in Pulse Duration and Amplitude from self-contained batteries, making it ideally suited to electrophysiological recording in small preparations or cells where low noise is required.
The DS2A can be triggered by an external device such as our new DG2A Train/Delay Generator.
NOTE: This stimulator is NOT approved for use on human subjects.
Constant Voltage Stimulator
External control of pulse duration.
Overload protection circuit preventing current in excess of 50mA being delivered.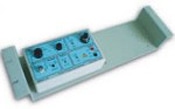 Featuring
Accurate and reproducible stimulus characteristics.
Switchable polarity, variable output and duration ranges (20µs to 2s).
External pulse duration control through the BNC trigger input.
A single-shot button, which operates irrespective of trigger inputs.
Cases manufactured from insulating material may be rack mounted using an optional mounting frame (Model D121-11) available from Digitimer Ltd.