Deliver positive AND negative current stimuli.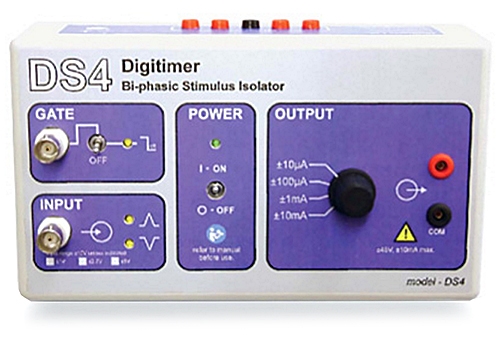 DS4 Bi-phasic Stimulus Isolator
The DS4 takes an analogue voltage waveform defined within your own data acquisition/ control system and converts it into an isolated constant current stimulus. The DS4 will accept several input voltage ranges and produces four output ranges (±10µA, ±100µA, ±1mA and ±10mA).
It also features a GATE input, so that several DS4 units can be controlled by a single analogue waveform, but enabled individually via this GATE input. A timed "inactivity sensor" reduces battery usage and damaging "leak currents" during infrequent stimulation, while at the same time maintaining low levels of zero crossing distortion for repetitive waveforms.
NOTE: This stimulator is NOT approved for use on human subjects.
Specifications
Output:
Bi-phasic constant current proportional to the input voltage
Power:
Included external power supply (input voltage 110V – 220V) providing ±15V DC output. 10 x 12V GP23A Batteries.
Mounting:
One or two stimulators may be mounted in a 19″ rack using a specially fabricated frame (model D121-11) available from Digitimer Ltd.
Dimensions:
7.5″ x 4.3″ x 3.1″ | 19cm x 11cm x 8cm
Weight:
1.1 lb | 500 g (approx.)