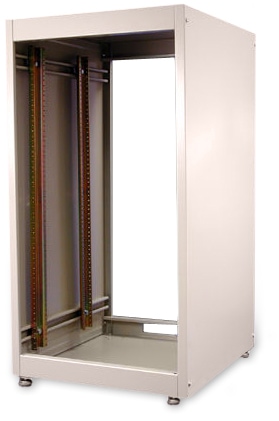 Floor-standing Equipment Rack Features
Standard 19" panel width (21.34" overall)

Usable depth of 16.5″ without doors, 16″ with doors (17.5″ overall)

Knockdown rack unit is shipped in a flat pack container for handling ease & protection (see below)

Perfect for tight access areas or 1 person installations as unit is knocked down into 5 easy to handle parts (ie…2 sides, top, bottom and 4 panel rails)

 Complete with; 4 infinitely adjustable – combination rack mount rails, on E.I.A. universal spacing (5/8 – 5/8 – 1/2 inch) – drilled & tapped for 10-32 screws (see close up below) and 4 leveling feet

Removable gland plate (over 10″ long X 1.5″ high opening) with knockouts on rear bottom of rack for easy cable access (see below)

Simple assembly using one bolt in each corner to lock the sides to the top and bottom (hardware included)


Heavy duty 16 gauge steel top, bottom and sides

Rails are made of 10 gauge steel (zinc plated finish for grounding capabilities)

Recommended maximum weight, 1,000 pounds

Finished in rugged textured powder paint

Stocked in Black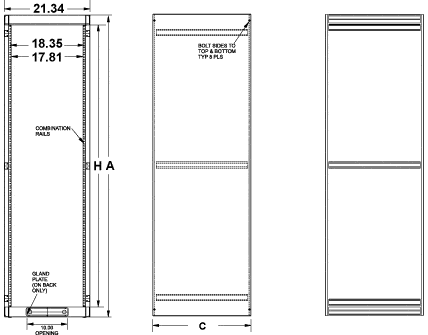 17.5″ Deep models. Usable Depth = 16.5″ without doors, 16″ with doors
Key Features
Additional sizes, colors and accessories available.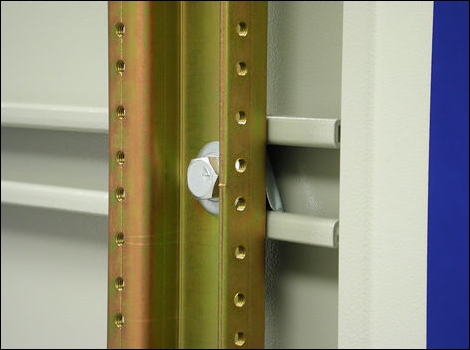 Infinitely Adjustable (front to back) 10-32 Tapped, Zinc Plated, 10-gauge Steel, Panel Rails.
Rack ships with 2 pair included, shown here mounted to Amhal Strut.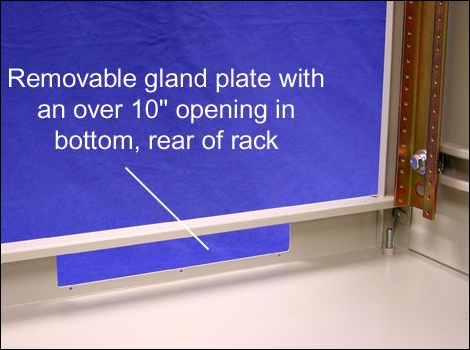 Gland Plate Opening For Easy Wiring Access.
Bottom, rear of rack – 1.5″ high.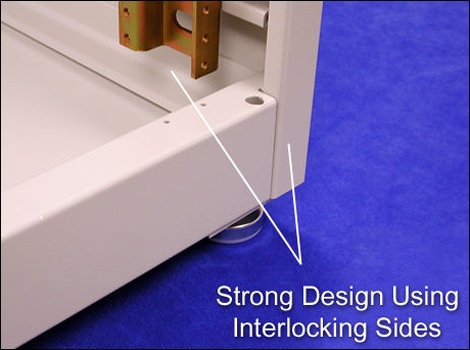 Interlocking Sides.
To both the top & bottom (shown).
Over Sized (1.67″ Diameter) Nylon Based – Leveling Feet Included
Panel Rail Mounted Heavy Duty Shelf
Allows easy rack mounting of narrow equipment or items that do not have rack mounting capabilities.
Shelves feature formed 14-gauge steel construction
15″ Deep x 3.5″ (2U) high = 100 pound weight load rating
Rear lip stiffener folded up for extra strength & acts as a rear equipment retainer
Mounts to rack rails either as an internal shelf or external shelf/work area
Rugged textured – powder paint finish
Requires mounting hardware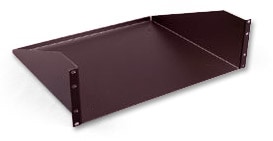 Part Numbers

Flat Pack Shipping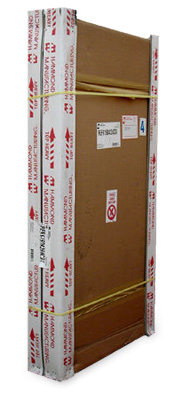 Shipped in a flat pack container for handling ease & protection. Perfect for tight access areas or 1 person installations.
Rack is knocked down into 5 easy to handle parts (ie…two sides, top, bottom and a pack of 4 panel rails.
Also see: