A complete solution to your electrophysiology needs.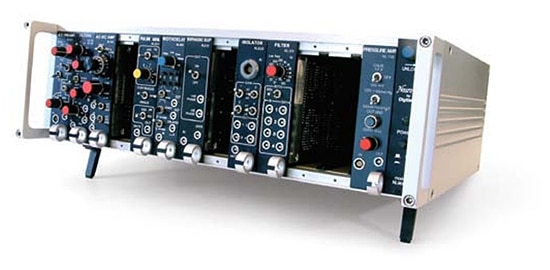 The NeuroLog System
A compact, versatile & modular instrument which can be used for a variety of purposes including:
Intracellular, Extracellular, Transducer & Multi-channel Isolated Amplification
Pulse Generation & Electrical Stimulation
Signal Processing & Conditioning
In many cases researchers will use one system to monitor several parameters of interest simultaneously. The NeuroLog System evolves with your research. The modularity of the NeuroLog System also means that your system can evolve as your experimental requirements change. You can change the configuration of the modules or add to your existing ones at less expense than buying a new set of instrumentation.
NL905 Compact NeuroLog Case
The NEW NL905 Compact Case & Power Supply unit provides researchers with a smaller alternative to the NL900D Case. The NL905 has space for up to 4 modules and is fully compatible with all existing NeuroLog modules. As with the NL900D, modules can communicate via internal connections, reducing the number of cables required. The NL905 measures 5.1″ x 6.5″ x 10.6″| 13cm x 16.4cm x 27.1cm. Download brochure.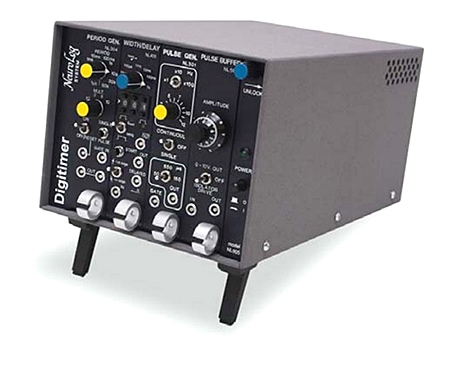 NeuroLog Modules
If you are unsure of the modules you require for a particular application, then please refer to the NeuroLog System Overview  before making your selections.
If you are already familiar with the NeuroLog System then you are probably happy to browse the modules as they are arranged below. Please note: NeuroLog modules need to be installed into an NL900D Case and Power Supply Unit to operate correctly.
Modules can be selected by Grouping or by Product Code
NeuroLog Case & Power Supply
The NeuroLog Case & Power Supply (shown left) unit forms the heart of every NeuroLog System. Modules are not only powered by this unit, but wiring within the case allows signals to be passed between modules without the need for a mass of cable connections through the front panel sockets.
NeuroLog Cables & Accessories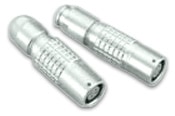 The NeuroLog System uses standard Lemo connectors and cables rather than BNC connectors in order to minimize the size of the modules. Our accessories include a wide range of item such as:
Electrode Holders
Cables
Extension Cables
Plugs (cable mounting)
Sockets (panel mounting)
Sockets (cable mounting)
Adaptors
Accessory Kits
Miscellaneous Items