NL100AK – Headstage
Differential input, low noise, high impedance headstage amplifier for use with NeuroLog preamplifier modules (mainly with the NL104A AC Preamplifier). Suitable for extracellular microelectrode recordings. Supplied with NL973A accessory kit.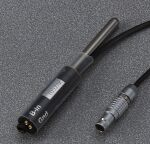 NL100RK (NL100AKS Headstage & NL100C Stimulus Controller)
The NL102G is a DC preamplifier (inc matched headstage) designed for intracellular recording. Features include capacity neutralization, current injection, low leakage current and low DC drift. It is particularly suitable for intracellular measurements through high resistance fluid-filled electrodes. Other functions include electrode impedance check, calibrator, stimulus bridge balance and DC level adjustment. Now supplied with the NL412 remote buzz box and NL976 accessory kit. The headstage is the same size as the NL100AK shown above.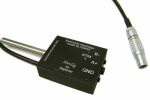 NL102G – DC Preamplifier
The NL601 has a digital counter which produces an analogue output proportional to the count. A pulse at the input socket increments the counter towards a full scale count of 255, 2550 or 25500 which is selectable by the front panel scale switch. The counter will continue to increment on input pulses until the unit is reset. This can be done manually (with the on, off/reset switch) or by applying a pulse to the reset socket. Alternatively, with the unit set to internal-reset, when the counter reaches full scale the unit will automatically reset.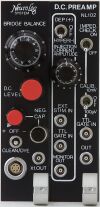 NL104A – AC Preamplifier
The NL104A AC preamplifier is a low noise AC coupled differential amplifier. It can be used alone for making recordings from low resistance electrodes or with the NL100AK headstage (or NL100AKS & NL100C) for extracellular microelectrode recordings. It can be operated in single-sided (inverting or non-inverting), or differential modes. It has a wide dynamic balance adjustment for asymmetrical inputs (useful for balancing out interference and short artefacts), a choice of two input time constants and eight gains.

NL106 – AC/DC Amplifier
Our general purpose AC/DC amplifier features two continuously variable ranges offering 0 to x10 or 0 to x100 gain. It operates in single-sided (inverted or non-inverting) or differential modes. In DC mode, an offset of up to 2V can be zeroed, this process is facilitated by illuminating LEDs which indicate the position within the range.

NL108A – Pressure Amplifier
The NL108A pressure amplifier module provides two gain settings, one appropriate for blood pressure measurement (1.0V at the output corresponds to 100mmHg pressure at the transducer) and the other for low pressure measurement such as intra-tracheal pressure (100mV at the output equals 1cmH2O at the transducer port). An internal voltage calibrate provides the appropriate deflection (1.0V or 100mV) for these two ranges. Other features include excellent DC stability, a push-button switch for setting the zero pressure baseline on the recording instrument and a sensitive zero offset control.Although the NL108A is designed to mate perfectly with our own pressure transducers (NL108T2, NL108T4), due to its internally adjustable gain and bridge excitation voltage, it can be used with a variety of other standard pressure transducers.

NL109 – DC amplifier
The NL109 is a DC amplifier suitable for making microelectrode recordings (e.g of field potentials) in conjunction with the NL100AK headstage or for making DC measurements with our NL61 or NL62 force transducers or other compatible transducers. The NL109 has a gain range of x1 to x5k, a HF cut filter from 0.3Hz to 30kHz and LF cut options of 0.1Hz, 10Hz or DC. An autozero button allows the baseline to be reset with a single press.
NL120S – Audio Amplifier
The NL120S Audio Amplifier is a power amplifier for driving a 4 or 8 ohm loudspeaker such as the NL985S. It has sufficient power amplification to raise a +20mV signal to a moderate sound level. The module features an input selector for switching between two input signals, and the options of amplifying only positive or negative peaks (useful when baseline noise masks the sounds of nerve spikes of interest). The output is shaped to improve the low frequency response of small loudspeakers, and is power limited to minimize the nuisance caused by large transients such as shock artifacts.

NL820A – Isolator
The NL820A is the module at the heart of the isolated amplifier range of components, ideal for AC coupled recording applications such as EEG, EMG and ECG in the research environment (the NL820A is not MDD certified). The NL820A is a four channel unit with independent gain and filtering control of each channel as well as a mute facility. The NL820A MUST be used with a preamplifier from the NL822/4 or NL832/4 (discontinued) ranges.

NL844 – 4 Channel AC Coupled Preamplifier
The NL844 is a 4 channel AC coupled preamplifier. Filter and gain settings are controlled in pairs (i.e channels 1 & 2 and channels 3 & 4 share settings. As well as amplifying 4 channels, the unit can also be operated in a single or two channel mode (channels 1 & 3 or 2 & 4). The NL844 needs to be connected to the NL820A Isolator module. NL844's are ideally suited as a multi-channel EMG amplifiers or EEG amplifiers.