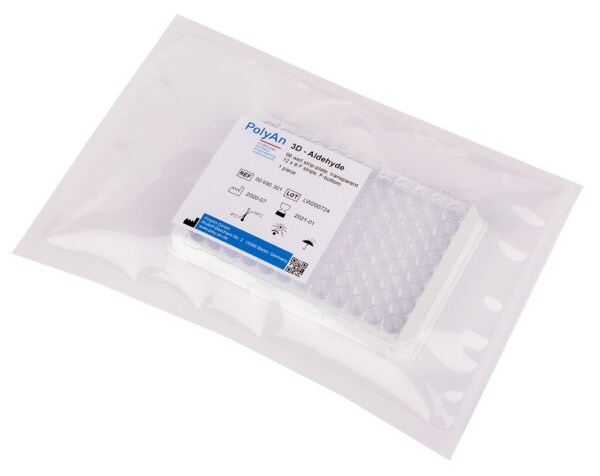 Functionalized 96-well Plates For Microarrays
In order to take advantage of the existing liquid handling and automation solutions for 96-well SBS formats, PolyAn is offering a range of functionalized multi-well products which are equipped with the same reactive surfaces as our glass and plastic slides.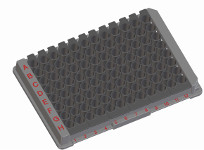 Standard polystyrene 96-well plates in different designs which are equipped with PolyAn's 3D-Epoxy and 3D-NHS reactive matrices for covalent coupling of biomolecules.
Key features:
Compatible with all liquid handling systems for ELISA
Covalent binding of nucleophiles to the plate surface without complex coupling chemistry
Integrated antifouling matrix reduces unspecific binding
No cross-contamination between wells possible
Most cost-efficient solution
Multipart plates
PolyAn's multipart plates are comprised of a functionalized glass plate (75 x 110 mm) which is combined with the ProPlate superstructure after the printing process.


ProPlate® MTP features a biocompatible, pressure sensitive, adhesive bonding system applied to a bottomless microtiter plate to form a leak-proof seal between wells to isolate microarrays printed on glass or plastic during processing. Designs are available in black polystyrene for the 96 well (round) and 384 well (square) plates, and in black polycarbonate for the 96 well (square) plate, which maximizes the array printing area. Application of the substrate is as simple as peeling off a liner to expose the adhesive and pressing the content to the surface. Alignment of arrays within the wells may be facilitated by means of a fixture (sold separately). This product is often customized for content providers seeking a go-to-market solution for their arrays printed on difficult to bond substrates. Lids and adhesive plate seals are also available both as a packaging solution to protect content and as a means to prevent evaporation during reagent incubation steps. ProPlate MTP products are compatible with several available microarray imagers and most robotic liquid handling platforms.

Key features:
Fast printing on planar surface
No electrostatic effects
All of PolyAn's reactive matrices available for coupling
Functionalized bottom plate can be comprised of glass, PMMA, COP and other plastics
Functionalized HTA 96 well plates
The HTA96-well plates of Greiner Bio-One have been specifically designed for microarrays. They are comprised of a low autofluorescence injection moulded plastic which PolyAn equips with our 3D-reactive surfaces.

Plates with the following matrices are available:
3D-Epoxy
3D-Amino
3D-Aldehyde
3D-Carboxy
3D-NHS
Please do not hesitate to contact us, if you would like to learn more about this novel design and/or if you would like to test some samples.
Key features:
Fast printing on planar surface
No electrostatic effects
Standard SBS format
All of PolyAn's 3D-reactive matrices available for coupling
Mechanically robust, low autofluorescence injection moulded plastic
Custom Product Request
Contact us if you require a special surface for binding of your biomolecules that is not listed in the products table. We can also functionalize other plate formats and substrates with our surfaces. Additionally, we have access to a wide range of different surface modifications for binding of small molecules, saccharides etc.