For MultiClamp 700B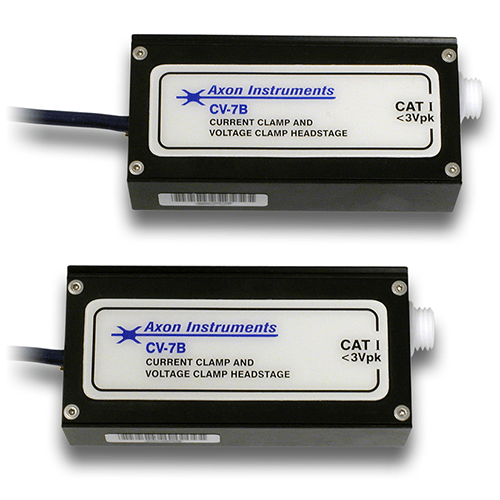 CV-7B patch clamp (standard)

CV-7B/BL (bilayer)

CV-7B/EC (electrochemistry)

For Axoclamp 900A
For Axopatch 200B-2
Warning
Your Axopatch 200B must be returned to Molecular Devices for tuning to add a new headstage.  Cost is at least $2,450 IN ADDITION to the cost of the new headstage. Please contact Molecular Devices for a quote. AutoMate Scientific no longer sells these headstages.
For Axoclamp-2 & GeneClamp500 Series
HS-2 and HS-2A unity-gain headstages
The HS-2 and HS-2A headstages are used with the Axoclamp and the GeneClamp. They are all unity-gain voltage recording headstages but they come in a variety of different current-passing gains for applications as diverse as extracellular recording, bath-potential recording, ion-sensitive recording, ionophoresis and intracellular recording from small or large cells. For ultra-high impedance electrodes, special circuitry inside the headstage prevents any DC current from leaking into the input through the capacitance neutralization circuit.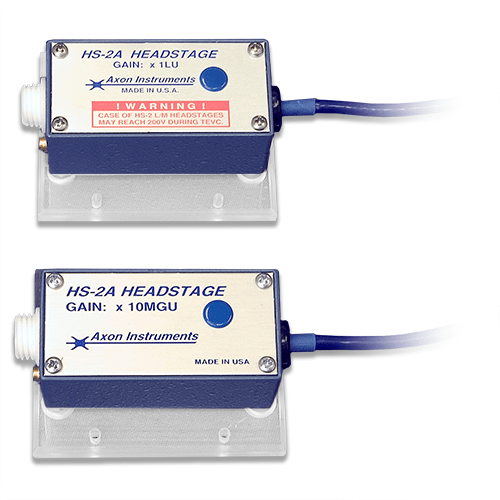 "M" versions have extended capacitance neutralization range. "G" versions have grounded cases. HS-2″A" series headstages have an extended operating voltage range (±150V).
For Axoclamp 2 Series
HS-4-x1MGU relay-switched unity-gain headstage
HS-4 headstages may be used with the Axoclamp to maximize the voltage across the electrode during two-electrode voltage clamp. In all other modes the HS-4 acts like an HS-2 headstage. Available only with current-passing gain x1MG. The VG-2 headstage must be used for current measurement.
$1,009.00Add to cart
Optional CV-5 Series Headstages for the GeneClamp 500B
CV-5-100GU patch-clamp headstage (100 mV/pA)
CV-5B-100GU bilayer patch-clamp headstage (100 mV/pA) – Ask
CV-5-1GU macro-patch headstage (1 mV/pA) – Ask
CV-5-100MU voltammetry headstage (100 mV/nA) – Ask
CV-5 headstages operate with the GeneClamp 500. Each headstage has one feedback resistor for current-to-voltage conversion. The transfer resistance of the 100G, 1G and 100M versions are 100 GΩ, 1 GΩ and 100 MΩ, respectively. The "B" version has an extended capacitance compensation range suitable for bilayers. The 100G version is ideal for single-channel recording and vesicular-release amperometry. The 1G version is suitable for macropatch applications. The 100M version is used for fast cyclic voltammetry using carbon-fiber microelectrodes.
EX-1 five-foot (1.5 m) extension cable – Ask
The EX-1 extension cable works with HS-2, HS-2A, HS-4, VG-2 and VG-2A headstages.
Important Notes
We are now only selling the 'U-type' headstages with the threaded white PTFE inert collets, which connect only to HL-U holders, or U-type adapters and model cells.
All adapters and holders must be ordered separately.
Mechanical Mounting Options
A 4″ (102 mm) long removable insulated mounting rod is provided at no charge with most headstages. Diameter is 5/16″ (7.9 mm) unless 1/4″ or 3/8″ (6.3 or 9.5 mm) is specified by purchaser. Additionally, all headstages include an insulated mounting plate. Many manufacturers of micromanipulators provide custom mounting brackets for Axon headstages.