Behind every great perfusion system is a reliable valve controller.
ValveBank® Controllers
Run experiments automatically – even unattended
By running experiments automatically, AutoMate Systems will leave you free to accomplish other tasks – saving you both time and money.
Microprocessor-based for accuracy and flexibility
The ValveBank® can store sixteen user programs with 10 millisecond switching accuracy. It includes powerful perfusion commands and capabilities not offered by competing valve drivers: open single or multiple valves, master channel for control/buffer solution, computer control.
Low noise & low voltage valve control
Designed for electrophysiology. CE marked for Europe.
Manual, TTL (digital), and serial (RS-232) inputs
Control valves manually (by keypad) or by computer – simultaneously thanks to the microprocessor design.
Low cost & low profile, simple design
Optional BNC cables and 19" rack-mounting brackets.
All AutoMate valve controllers switch 12V DC solenoid valves open and closed rapidly using full power, then hold-in at 1/2 power to prevent thermal transfer to your solutions. Low noise circuitry minimizes recording artifacts in electrophysiology. Both ValveBanks and AutoMate's ValveLink controllers are designed for use with pClamp, SutterPatch, Patchmaster, AxoGraph, et al. All AutoMate products include a one-year limited warranty covering both parts and labor (see manual for more details).
The ValveBank® remains the only programmable valve controller for physiology that does not require a computer. ValveBanks include digital and manual control, plus they can be programmed through their keypad and LCD screen or EasyCode® software from a Macintosh or PC. ValveBanks run user valve sequences without a computer and include eight programmable digital outputs for control of external devices such as stimulators, pumps and recording devices. Entire ValveBank programs can even be triggered by a single TTL pulse. Digital inputs activate valves by computer or external devices including level sensors, flow meters, and UV/VIS detectors.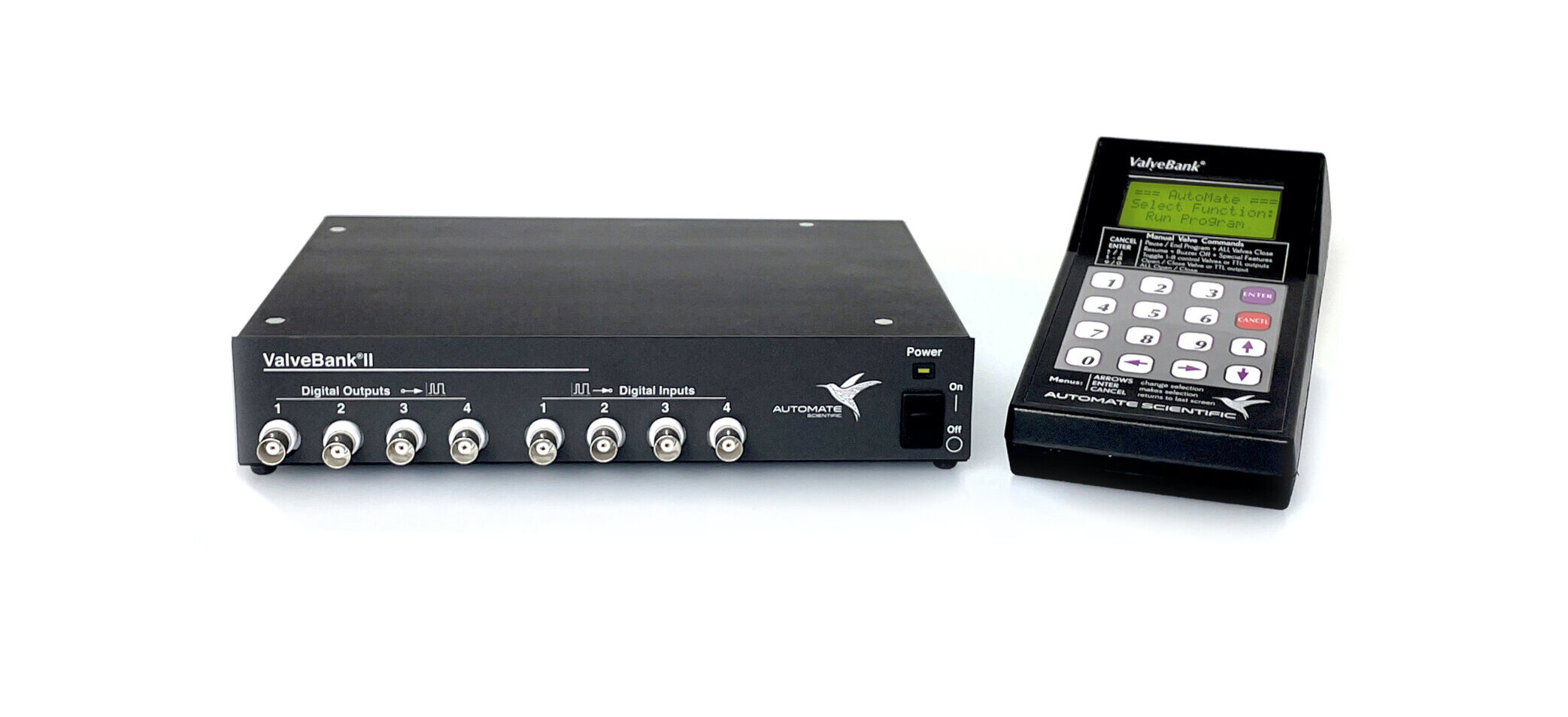 EasyCode® – Expand the computing power of your ValveBank
Optional EasyCode software helps you program your ValveBank with a Macintosh or PC-Windows using easy "click-and-drag" time bars. Save and load unlimited programs to disk, print out program listings, then download your sequences into the ValveBank's memory with the included serial cable in one simple step. Transfer and run programs on the ValveBank, which can be disconnected from the computer.
ValveBank or ValveLink8.2: Which controller is right for you?
October 1993:  "We use the ValveBank8 in electrophysiology on a Xenopus oocyte recording rig. We have run a twelve-channel manual perfusion delivery system for several years with timed solenoid valves. The ValveBank and accompanying EasyCode Macintosh software allow us to program full wash and delivery sequences in advance with significantly more accurate switching. The new manual perfusion timing option allowed the ValveBank to perform exactly like the controller we had built before. Basically, the ValveBank saves us the worries of monitoring reagent-delivery, and it works."
Dr. David Julius
Nobel Prize in Physiology or Medicine 2021
Department of Cellular and Molecular Pharmacology
University of California, San Francisco
Dimensions: 10" x 7.5" x 2"


Weight: 5 lbs. (2.27kg.)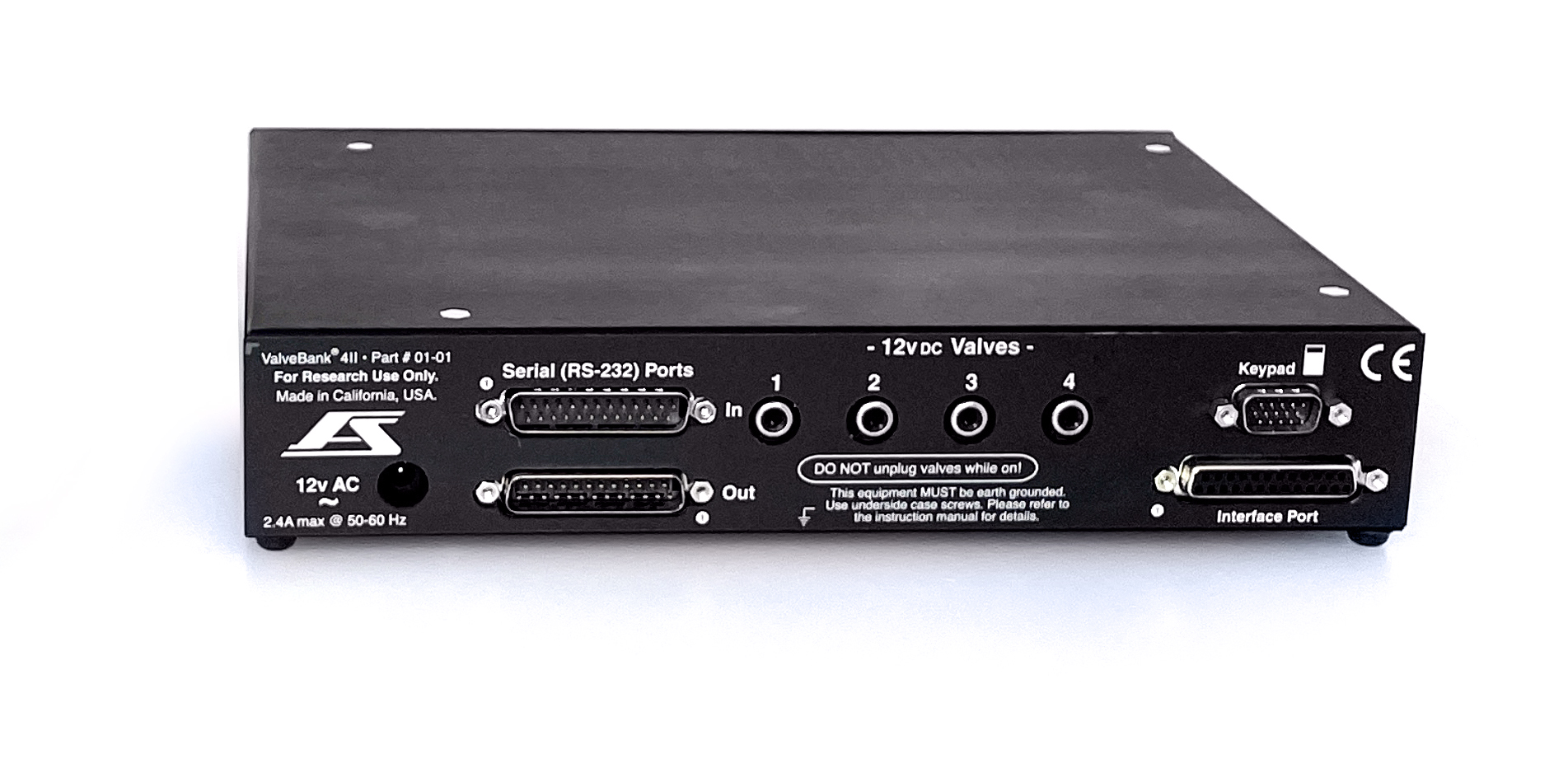 User-selectable for normally open or closed valves

1.5 Amp, 12V AC power supply included
Back-lit LCD display
Detached 16-key membrane keypad
Easy menu-driven interface
16 or 32 user programs of 64 commands up to 99 hours long
EasyCode Software
Program up to sixteen channels of valves and digital outputs.
Open multiple experiment windows. List sequences to screen or printer. Copy and paste. Zoom in and out of your experiment.
References – ValveBank