An assortment of valves and fittings to accommodate any rig and budget.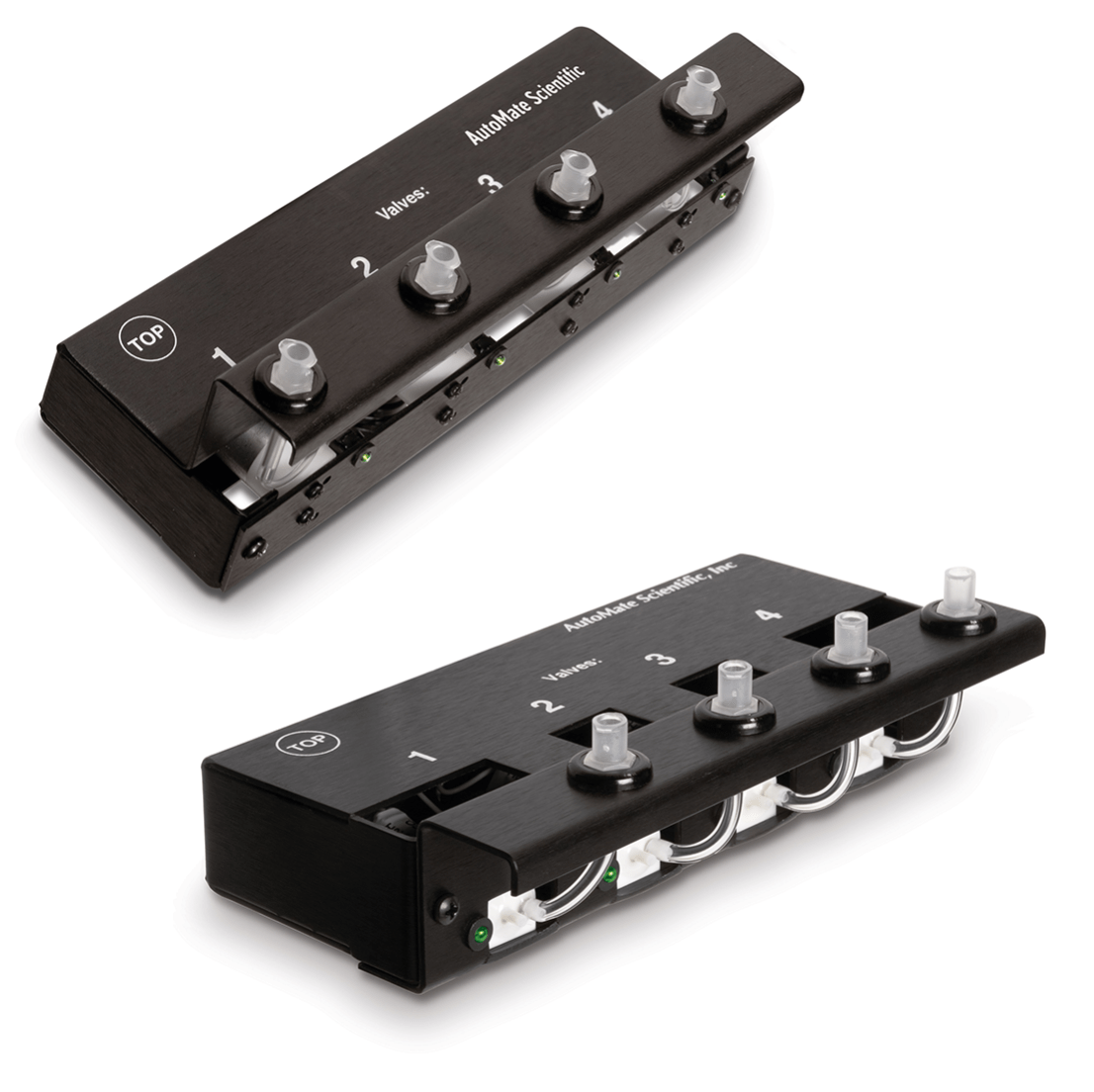 Valves and Fittings
Pinch Valves for Reduced Maintenance
Easiest valves to clean and switch tubing. Liquids never touch the valves. Switches in 30-50 ms. 1/32" i.d. silicone tube passes through, and is pinched closed by solenoid activation. All AutoMate Scientific valves include an individual indicator LED. Our new aluminum enclosure keeps the valves dry from spills and offers luer lock ports for syringe reservoirs.
PTFE inert Valves for Fast Switching
Required for fast kinetics applications. Excellent chemical and corrosion resistance. Non-stick surface resists particles and chemical deposits. Switches in less than 10 ms, with 20 μl of dead volume from port to port. Threaded female inlet and outlet ports accept Hose Barb, Luer Lock and Nut & Ferrule fittings (see diagrams below).
Lee™ Mini Valves for Extremely Fast Switching and Minimal Pressure Pulse
For the most demanding applications AutoMate Scientific offers tiny valves from the Lee Company. Enclosed in our new aluminum box with luer locks for syringe reservoirs, these valves can open and close in 1.5-4 ms with a ValveLink8.2 controller.
Fittings for your PTFE inert Valves
Hose Barbs are standard and available for 1/8" & 1/16" i.d. soft tubing. Luer Lock fittings attach directly to syringe reservoirs for minimal dead volume. Nut & Ferrule fittings are ideal for drug discovery applications that require hard PTFE inert tubing.
Pinch Valves
PTFE inert Valves
Lee™ Valves
Luer-lock Fittings in PTFE inert Valves
Luer-lock fittings in PTFE inert valves allow direct connection of syringe reservoirs for minimal dead volume.
PTFE inert Valve Fitting Choices
Standard
Available for 1/8″ and 1/16″ i.d. soft tubing.
For direct attachment of syringes.
Eliminates extra tubing between reservoirs and valves.
Includes 2-way stopcocks and 35ml syringes.
HPLC-like, screw-in fittings for rigid, small-diameter (1/16″ o.d.) tubing.