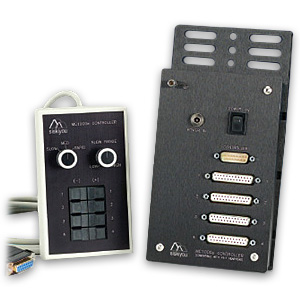 Four-axis Closed Loop Controller Push-Button
The MC1000e is a simple push-button controller with submicron positioning capability that is compatible with our 800 and 7000 series actuators, manipulators, and stages.
The MC1000e 4-axis controller has two preset speed settings: rapid (1.7 mm/second) and medium (300 μm/second). The third speed selector (slow) has a variable 330° potentiometer that enables settings from high speed (50 μm/second) to low speed (2 μm/second). With the speed selector set at the slowest settings, consistent 0.2 μm moves are easily made by the simple bump of an axis button. The controller uses encoder feedback from the motor to drive the device. This encoder coupling enables the use of the DR1000 digital readout or repeated positioning requirements.
The MC1000e uses a wall mounted power supply as its source for clean DC power. All cables are shielded and a central ground lug is located on the junction-box to ensure noise-free operation during sensitive electrophysiology experiments.