Move the microscope, not the experiment.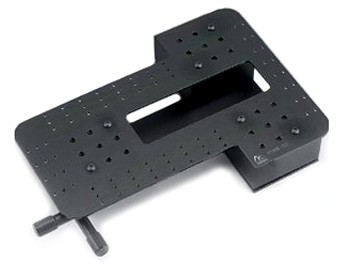 Economy Manual Microscope Translator
Our economy MXMS-115 series microscope translators are designed to be stable XY translators for fixed stage experiments. MXMS-115 series translators have a full 25 mm of XY translation and use ball transfer pads in the back two bearing locations. These ball transfer pads have proven themselves as a solid alternative to full crossed roller translators. Our economy models are only available in manual versions and can be fitted with either 20, 40, 80, or 100 TPI adjustment screws with resolution from 20 μm down to 5 μm, respectively.
Please specify which pitch of adjustment screw you require when ordering. Replace -xx in the Model Number with the desired thread. Example: For a MXMS-115 with 40TPI adjustment screws, order Model Number MXMS-115-40.
MXMS-115 series stages can be sized to fit most microscopes. Please include the manufacturer name and model of your microscope when ordering. A clamp kit appropriate for your microscope will be included.