Move the microscope, not the experiment.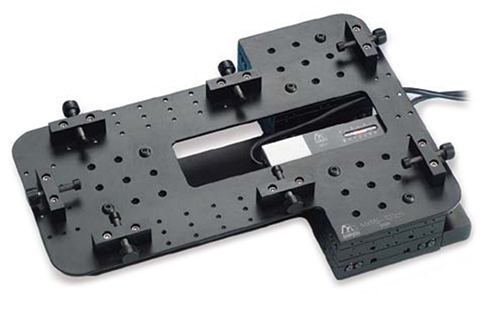 Manual & Motorized Microscope Translators
Our MXMS-115cr series microscope translators are designed to be stable XY translators for fixed stage experiments. MXMS-115cr series translators have a full 25 mm of XY translation and have full crossed roller bearing stages in all three locations.
Our MXMS crossed roller translators are available in motorized and manual versions. Motorized versions can be controlled with any e series and MC2000 controllers. Our controllers drive the stage through a closed loop interface between the controller and the motor encoder. The closed loop connection ensures 0.2 μm and 0.1 μm resolution, respectively. The encoder coupling also enables the use of the DR1000 digital readout for repeated or relative positioning requirements. All cables are shielded to ensure noise-free operation during sensitive electrophysiology experiments. Manual versions can be fitted with either 20, 40, 80, or 100 TPI adjustment screws with resolution from 20 μm down to 5 μm, respectively.
MXMS-115cr series stages can be sized to fit most microscopes. Please include the manufacturer name and model of your microscope when ordering. A clamp kit appropriate for your microscope will be included.
Note: Please specify which pitch of adjustment screw you require when ordering. Replace -xx in the Model Number with the desired thread.

Specifications
20-, 40-, 80-, or 100-pitch drive screws
Compatible with fixed stage microscopes
Full crossed roller stage support
Maximum load 200 lbs, centered Travel / axis 1.0 inch (25 mm)
Minimum Controllable Motion
Manual
40 TPI 5 μm
80 TPI submicron
100 TPI submicron
Motorized
Backlash ≤ 5 μm
Point to point accuracy ± 2 μm