Manual and motorized microscope mounting.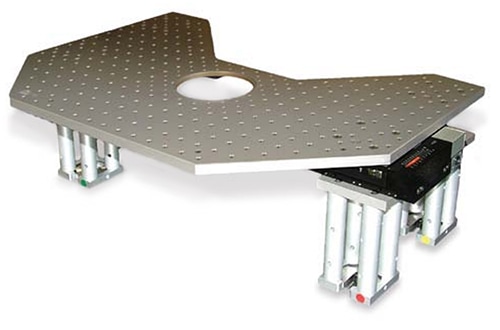 Manual & Motorized Platform
The MXZP platform system can be custom tailored to suit the needs of the end user. The platform configuration that is pictured is just one of many that have been produced.
The system is supported by our 100cr series stages (crossed roller). They are available in manual or motorized versions. A full 25mm of travel is provided on both models. The manual versions, can be fitted with either 20, 40, 80, or 100 TPI adjustment screws with resolution from 20 µm down to 5 µm, respectively. Please specify which pitch of adjustment screw you require when ordering. Replace -xx in the Model Number with the desired thread.
Motorized versions can be controlled with any e series and MC2000 controllers. Our controllers drive the stage through a closed loop interface between the controller and the motor encoder. The closed loop connection ensures 0.2 µm and 0.1 µm resolution, respectively. The encoder coupling also enables the use of the DR1000 digital readout for repeated or relative positioning requirements. All cables are shielded to ensure noise-free operation during sensitive electrophysiology experiments.
Custom Translating Platforms