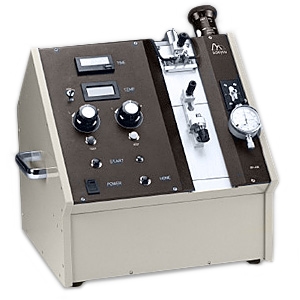 Pipette Puller, Automated Repeatable
Our dual stage EP-450 pipette puller uses several unique methods to make consistent electrodes pull after pull. The theory of operation is based on time management and millivolt control of the element for both first and second pulls. By controlling the time, or at least establishing a time basis, the user can create a pipette shape and length consistently and repeatedly. The EP-450 has been designed to be multi-user friendly. A simple data log book is included to record electrode glass type, electrode glass diameter, first pull time, first pull voltage, second pull time and second pull voltage.
Using this information, any user can easily reestablish their settings and recreate a specific electrode shape. The EP-450 has a unique ergonomic design. It is comfortable for the user to operate on a daily basis. It has been constructed for easy access to the loading mechanism, which eliminates operator bending and kneeling. All controls are set at a 45° angle for comfortable viewing. A fine pitch 100TPI pipette stop adjustment screw makes it very easy to balance the upper and lower electrodes to ensure symmetric electrode lengths every pull. The filament carriage travels from the first pull location to the second pull location and has a micrometer dial read-out for fine adjustment. The carriage also has a simple heat shield that uses a standard 25mm x 75mm microscope slide to protect the element during the pull process.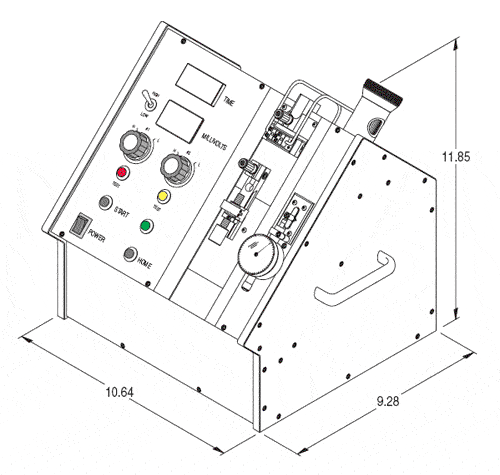 Specifications
Two-stage, automated
Ergonomic design
Multi-user and multi-shape capability
Pipette Glass Size Range:
Minimum 1 mm [0.039 inch] Maximum 3 mm [0.119 inch]
Pullable Pipette Materials: Borosilicate Glass, Aluminosilicate Glass, Leaded Patch Glass
Weight 33 pounds
Electrical requirements: Input power 120 VAC, 50/60 Hz or 220 VAC, Power usage 24 Watts
Pipette Puller Diagram (front panel)