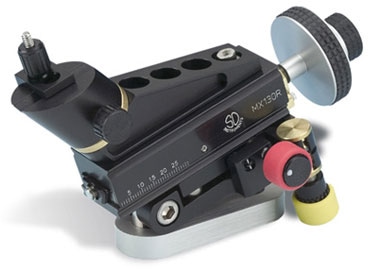 SD-130 Narrow Space-saving Manipulator
The SD130 Manipulator is designed to maximize available space. The narrow profile design allows multiple manipulators to be placed in one quadrant. The SD130 provides 38mm coarse and 5mm fine positioning travel in the X axis. Two and a half turns of the coarse adjustment knob will fully retract the device in the X axis. Equipped with our MXC-45 probe clamp for easy change of implement.
Y, Z axis adjustments are accomplished with the fine adjustment screws mounted on the back of the device. Additionally the Z axis adjust screw may be configured with the knob on the top or the bottom, which ever provides the best access. Device angle is easily set by loosening the locking screw. The RTC-0.5 mounting base provides rough rotational positioning and flexible mounting options, base or post. Left hand or right hand models to suit the application.
The extra length dovetail stage of the X axis combined with the spring loaded pivot mechanism (pat #6590723) of the other two axis allow for a high level of stability. This allows for smooth and precise adjustments.