Perfuse microliter volumes of precious solutions.
SmartSquirt® Micro-Perfusion System
Deliver microliter volumes starting with as little as 100 microliters of precious drugs.
Switch between eight solutions in milliseconds from a single tip.
Minimize cross-contamination with BackStop™ back-flow prevention.
Special 3-way relief valve design stops liquid flow quickly.
Valves and pressure controls in a small box near microscope – no stand necessary.
Includes pressurized large-volume reservoir for buffer.
Programmable dispensing, microinjection, perfusion or spritzing of reproducible microliter volumes. Up to eight solutions are stored in 2.5ml cryo tube reservoirs with easy syringe refill ports. Included pneumatic solenoid valves deliver regulated air pressure to push liquids out of the Smart Squirt Perfusion Pencil tip. An AutoMate Scientific (or other) valve controller offers programmable, manual or computer-controlled valve selection for switching which reagent is delivered from the tip. Pulse a valve quickly for microliter delivery, or leave it on longer for constant perfusion. The short delivery path saves expensive reagents. Integrated BackStop check valves prevent backflow found in competing micro-perfusion systems, while special three-way valve design stops liquids quickly. The 0-10psi regulator and air filter require a compressed air or other gas source — bottle, compressor or lab air. Compare to an eight-channel, 10psi Picospritzer™ at a fraction of the price.
Order with an AutoMate ValveLink8.2® or ValveBank® controller or use your own valve controller. Can be combined with an AutoMate Scientific ThermoClamp® for temperature-controlled delivery. Micromanipulator packages available.
Detached SmartSquirt now standard with longer Pencil
No room on your microscope stage for the SmartSquirt The Perfusion Pencil for the SmartSquirt now uses longer tubes for mounting the Reservoir Block up to 30cm away from the delivery location. The Pencil itself is also 30cm long for easier mounting on wide stages. Both standard.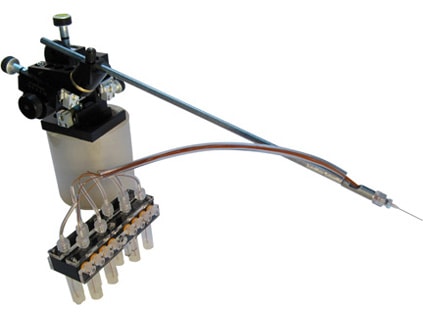 Integrated Pressure Regulator
Precision pressure regulator and 5 micron filter are built-in.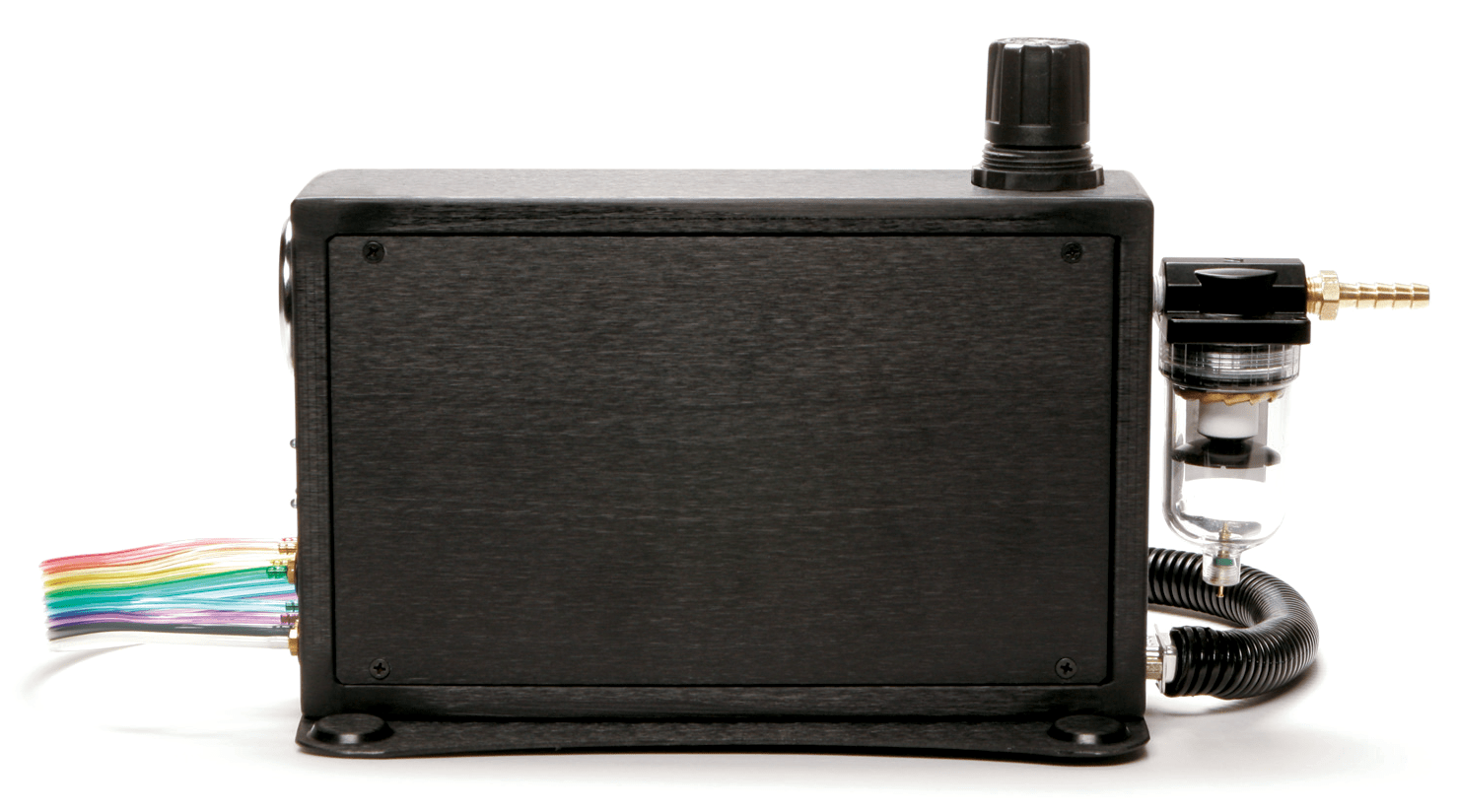 BackStop Backflow Prevention
One-way check valves inside the reservoir block prevent liquid backflow from the tip.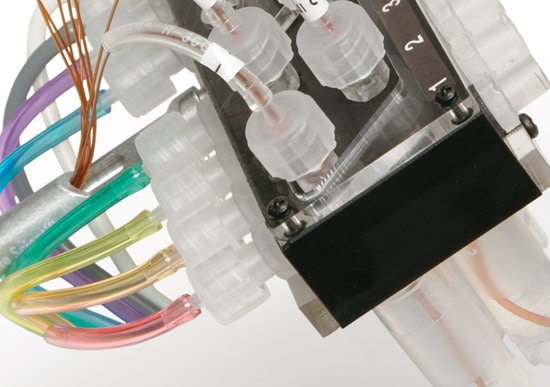 Reservoir Block
Uses standard cryo-tubes as reservoirs.
Easy ports for refilling reservoirs.
Convenient micromanipulator mounting.
Replaceable tips are interchangeable with our standard Perfusion Pencil®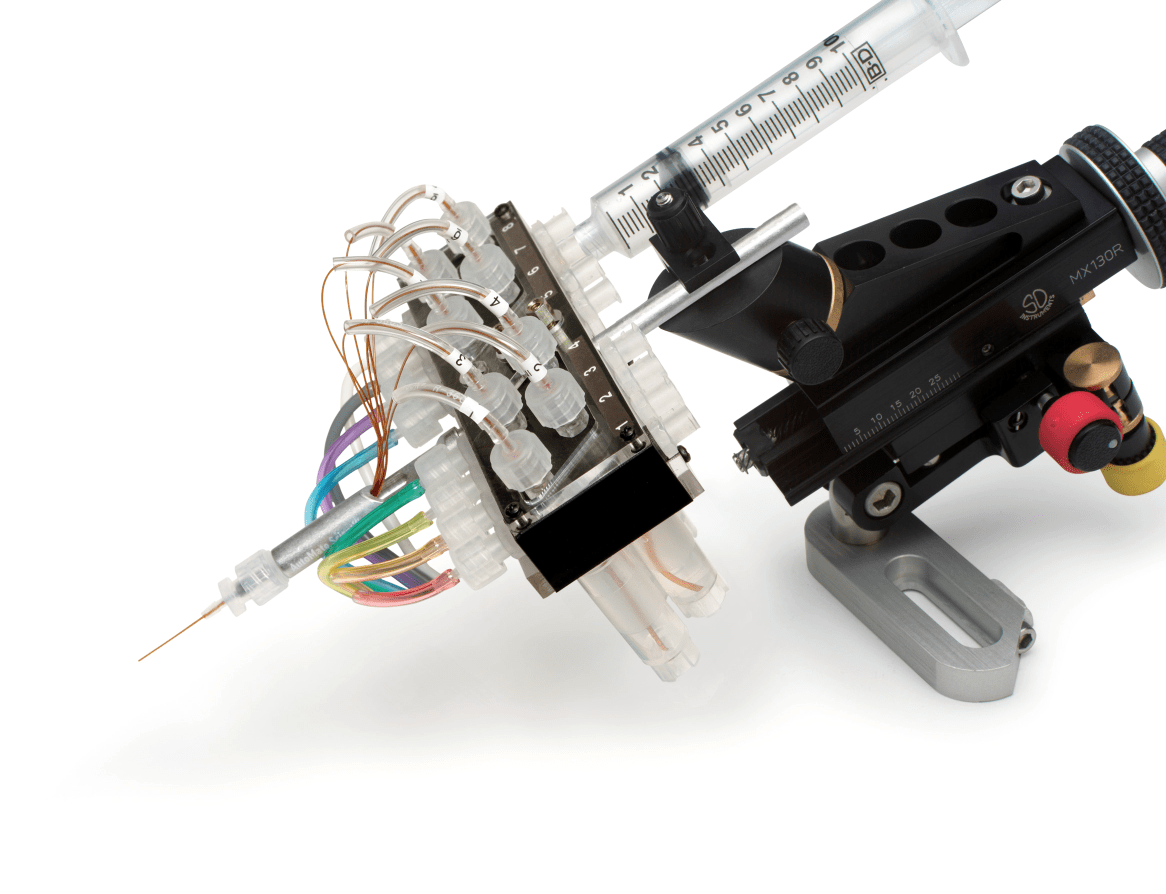 "I just wanted to tell you that I have been using the SmartSquirt® nearly every day, and I am very pleased with it. I have tested for cross contamination, and I believe it is very low. To prevent hydrostatic flow from the cryostat tubes into the bath, one line must continue perfusing bath solution after all other valves are closed. Your design changes help hold all of the fittings tightly and keep them from leaking or flowing backwards. I would also rate your company as being excellent for your immediate response to problems and questions on your products."
Dr. John G. Starkus
The Queen's Medical Center
Honolulu, Hawaii
Specifications
Pneumatic Valve Switching Speed:
Approx. 10-20 ms.
Reservoir Volume:
2.5ml cryo tubes + 1 pressurized 50ml reservoir (3.5 ml cryo tubes available)
Minimum Starting Volume:
Approx. 100 microliters
Flow Rates:
Depend on removable tip size
Filter:
5 micron filter included on air inlet
Regulator & Gauge:
0-15 psi
Air Inlet Requirements:
30-100 psi of any gas
Tubing:
360µm I.D. PTFE-lined polyimide 30 cm long
References – SmartSquirt