Pre-warm your solutions to eliminate bubbles.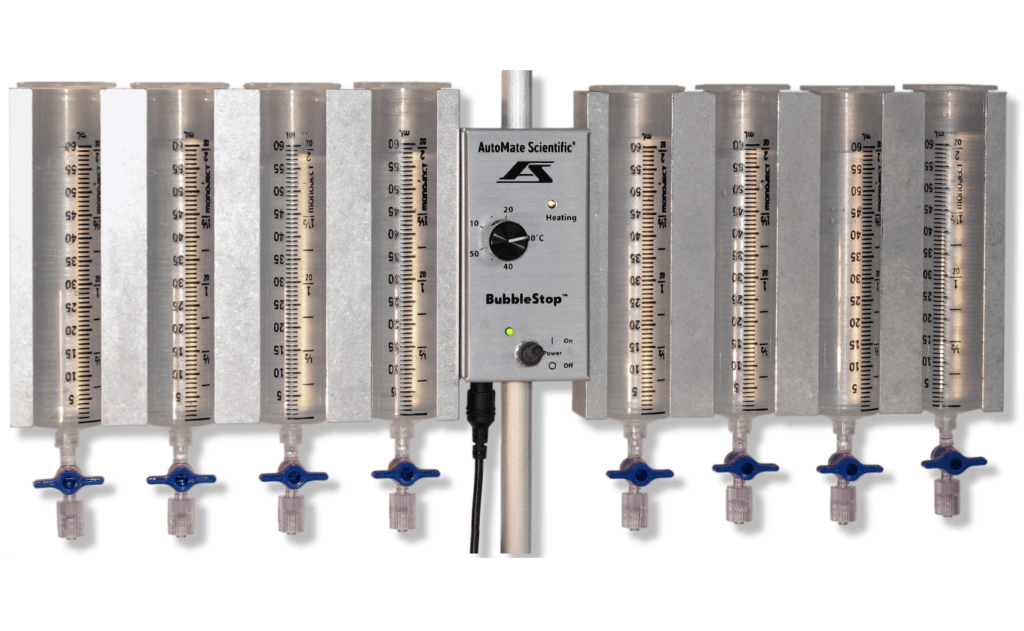 BubbleStop™ Syringe Heater
Bubbles in perfusion systems are caused by solution temperature changes. As solutions warm, they cannot hold as much gas, so they off-gas. This forms bubbles in perfusion tubing. It is especially true in inline heaters where the temperature rises dramatically. The best cure for bubbles is to pre-warm your solutions. AutoMate Scientific introduces the BubbleStop™ Syringe Heater with integrated temperature sensor and feedback. Set the temperature on the BubbleStop a few degrees higher than room temperature or your inline heater, and the warmed solutions will off-gas in the syringe reservoirs to the maximum gas concentration for that temperature. Even if they cool and re-heat again inside the perfusion tubing, they will not off-gas.
Easy to remove full syringes
Analog heating power – low noise for electrophysiology
Completely shielded electronics plus external power supply
Spill-proof design
Range: ambient to 50°C liquid temperature
Mounts to standard 1/2″ rod
References – BubbleStop The Taste of Blood in Mosquitoes

Biorxiv, February 2020

Veronica Jové, Zhongyan Gong, Felix J.H. Hol, Zhilei Zhao, Trevor R. Sorrells, Thomas S. Carroll, Manu Prakash, Carolyn S. McBride, Leslie B. Vosshall

Sensory Discrimination of Blood and Floral Nectar by Aedes aegypti Mosquitoes

Neuron, October 2020

Veronica Jové, Zhongyan Gong, Felix J.H. Hol, Manu Prakash, Carolyn S. McBride, Leslie B. Vosshall