Your thermoTRP channels won't know what hit them.

Cool Solutions CS-1 Peltier Thermal Stimulus Delivery System
Heat from 20 to 50°C in 3 seconds, then cool to 2°C in just a few more seconds — all controlled by your electrophysiology software
Display Peltier, heatsink or bath temperature
Set the desired temperature from the front panel or from your computer: The CS-1 can generate any desired timecourse of temperature change, by simply converting a voltage from your interface into a temperature
Optically isolated bath sensor for low noise
Suitable for single channel (no detectable noise added), whole cell patch clamping, or fluorescent ion imaging of groups of cells
Optional water cooling for low-temperature work
Two output BNCs to monitor and record two temperatures externally (e.g. Peltier and bath)
All components included – five minute setup
Tried and tested design, used in major thermoTRP labs for over a decade (list of publications)
Peltier heating/cooling element
This temperature controller is for superfusing small areas (e.g. groups of cells) in a recording bath, at a precisely controlled and rapidly adjustable local temperature. The system has been especially developed for patch clamp experiments in order to apply thermal stimuli without introducing noise or interference. It is also very suitable for intracellular ion imaging in cultured cells or tissue slices, oocyte recording, intracellular microelectrode recording or extracellular (e.g. brain slice) recording.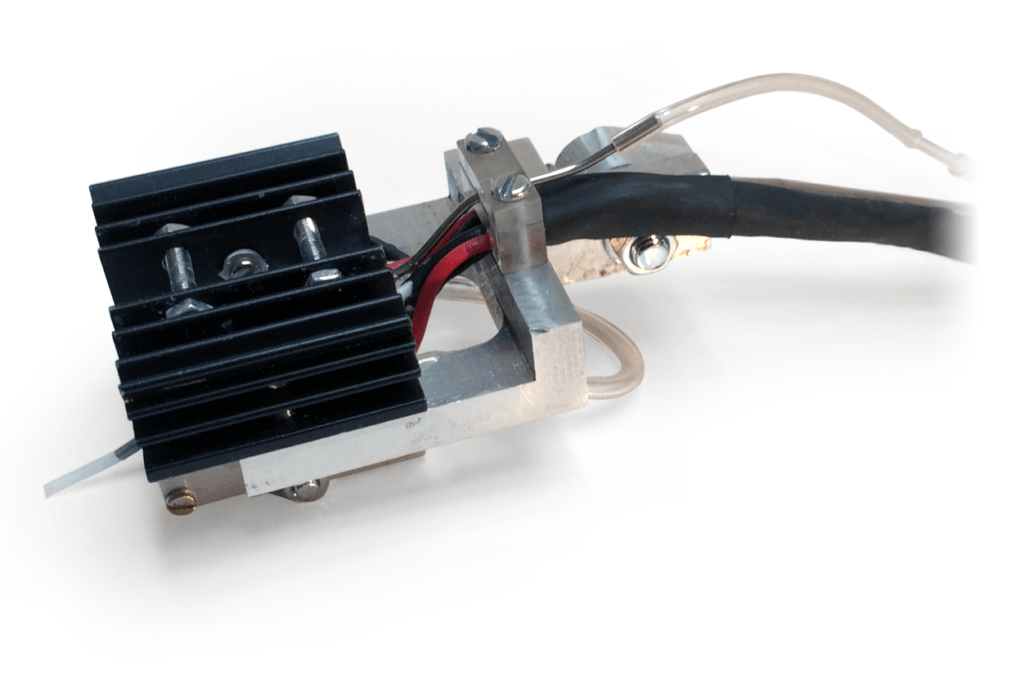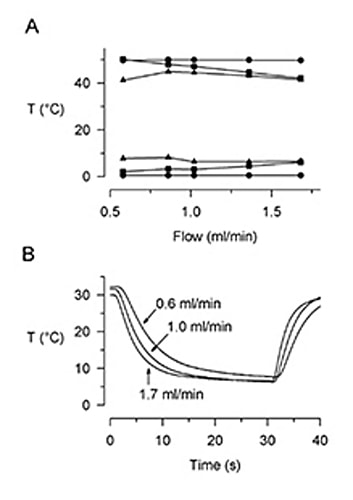 Effect of flow rate on the static temperature and on the rate of temperature change.
(A) Static temperature at the Peltier element (circles), in the solution leaving the Peltier element (squares), and at the cell (triangles) at flow rates between 0.6 and 1.7 ml/ min. Command temperatures were 50°C and 0°C, and feedback was from the Peltier element.
(B) Temperature at the cell during step temperature commands at flow rates of 0.6, 1.0 and 1.7 ml/min. The initial temperature at the heating/cooling chamber was 32°C and the command temperature was stepped to 0°C for 30 s, then back to 32°C.
Reid, et al, J Neuroscience Methods, 2001
"My lab has been using the Cool Solutions device for over ten years, and it has been a fantastic unit for characterizing the properties of thermosensitive TRP channels, both native and cloned. Its Peltier cooling and heating provide accurate and quiet thermal stimuli in our electrophysiology and imaging experiments, with superior range, speed, and reliability."
Dr. David Julius
Department of Physiology
University of California, San Francisco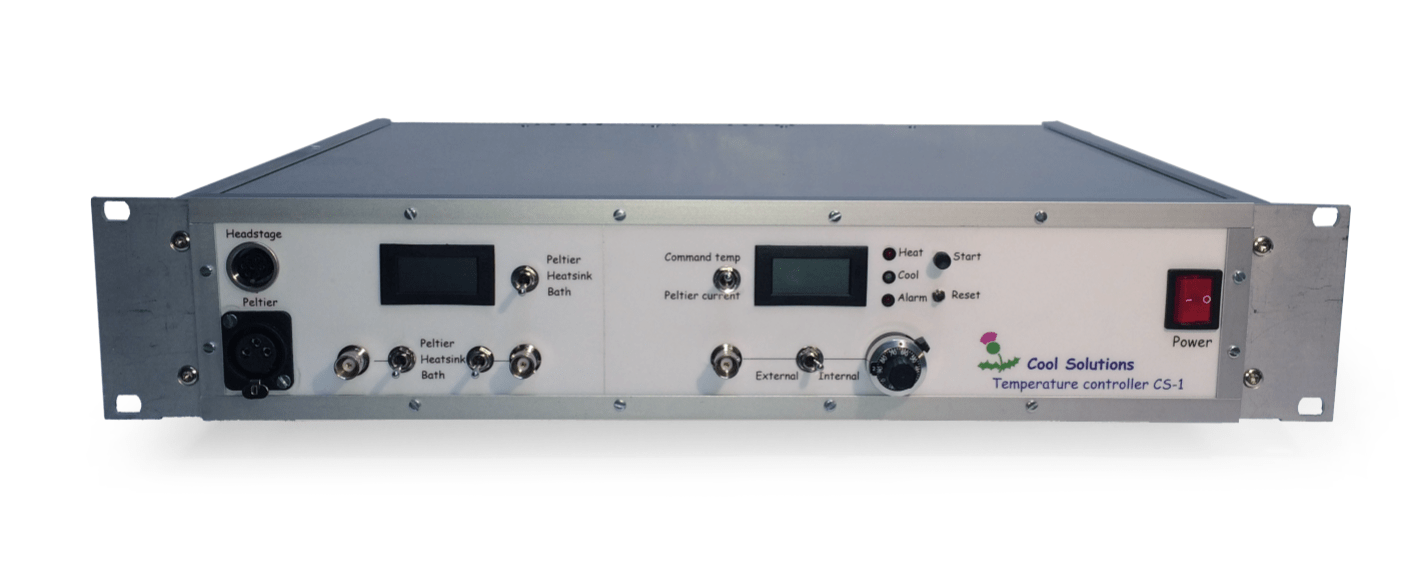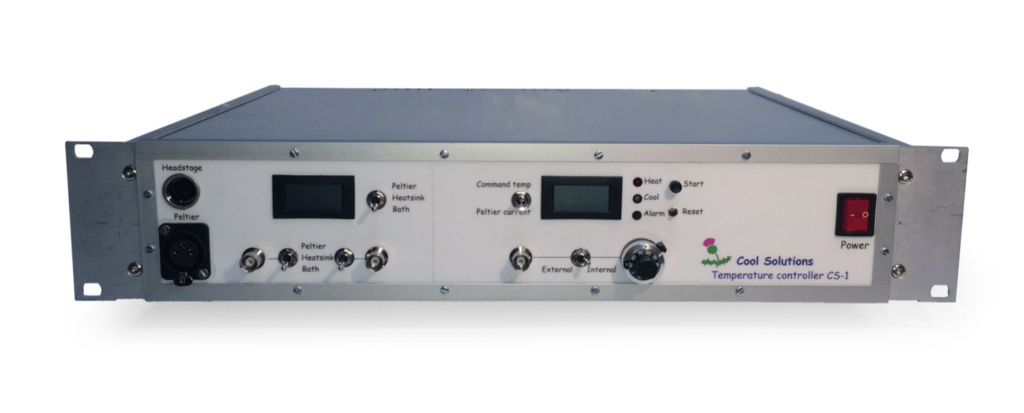 The main controller is ready for 19″ rack mounting (size 2U).
483mm w x 90mm h x 395mm deep 19″ w x 3.5″ tall x 15.5″ deep 6.5 kg = 14 lbs.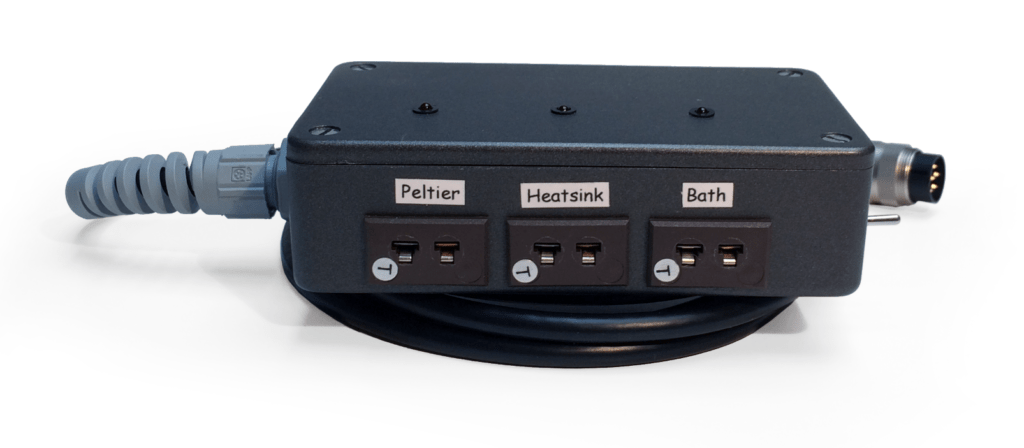 Three externally amplified temperature sensors including an optically isolated bath sensor, for virtually noise-free operation.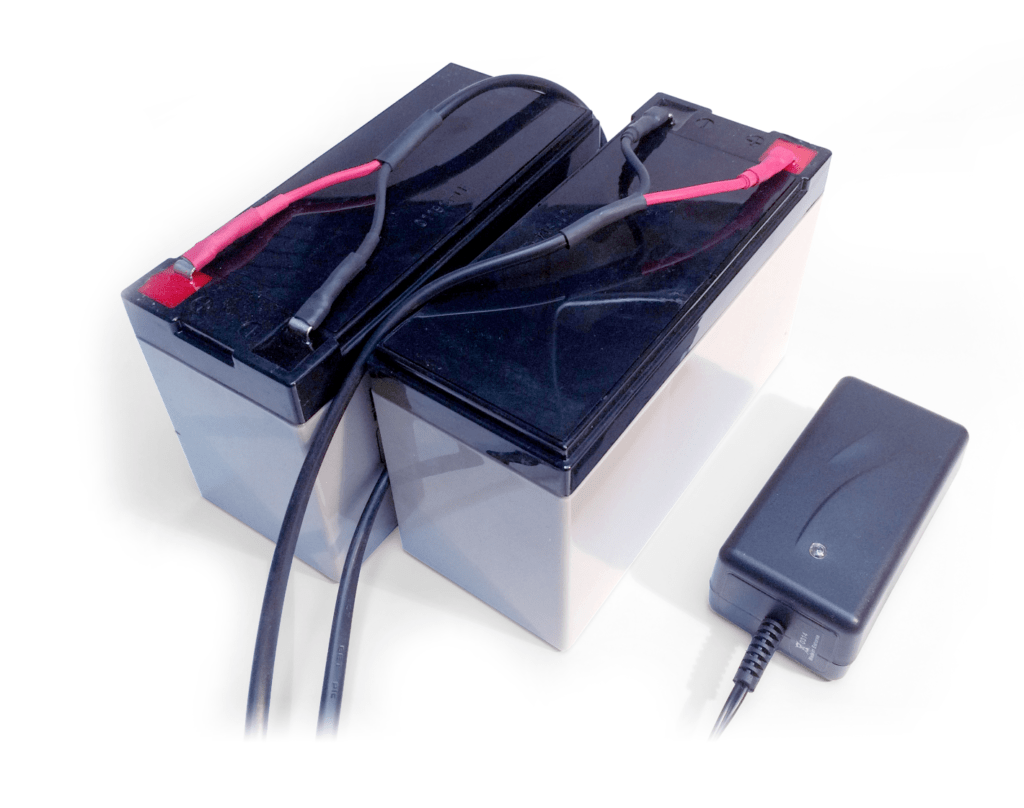 12V batteries and charger included for noise-free heating and cooling.
Special 0.1°C error thermocouple for exceptional accuracy.