The convenience of a disposable plastic culture dish with the high optical compatibility of glass.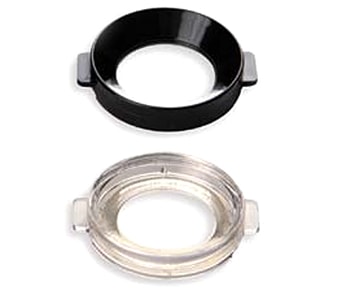 Cover Glass Bottom Culture Dishes
These dishes are used routinely in fluorescence, DIC, and confocal modes of microscopy, or anywhere that the highest image quality is desirable. The dishes with the self heating ITO coating require a Delta T Controller and Stage Adapter.
Features
Injection molded polystyrene sidewalls and lid, coverglass bottom.
Highest quality German Desag 263, low alkaline coverglass for optimum resolution.
35mm O.D. and a 23mm central aperture with tapered sidewalls and low profile (6mm in height) to reduce dead-volume and allow better access for microinjection and micromanipulation.
Available in 1mm, 0.5mm, and 0.17mm (#1.5) glass thicknesses.
Available in clear and black (for fluorescence applications).
Numerous accessories specific to these dishes allow for specialized applications including: media perfusion, gas perfusion, sample positioning, heating and cooling.
Optional stage adapters available to fit all Zeiss, Olympus, Nikon, and Leica microscopes.
Optional Culturing Cylinders may be used to barricade cells or suspended specimens in a dish; or to restrict and concentrate the growth and location of cells plated on a coverslip without the use of grease.