Accurate temperature control, rapid solution switching, fast wash-out, and now Thermal Runaway protection.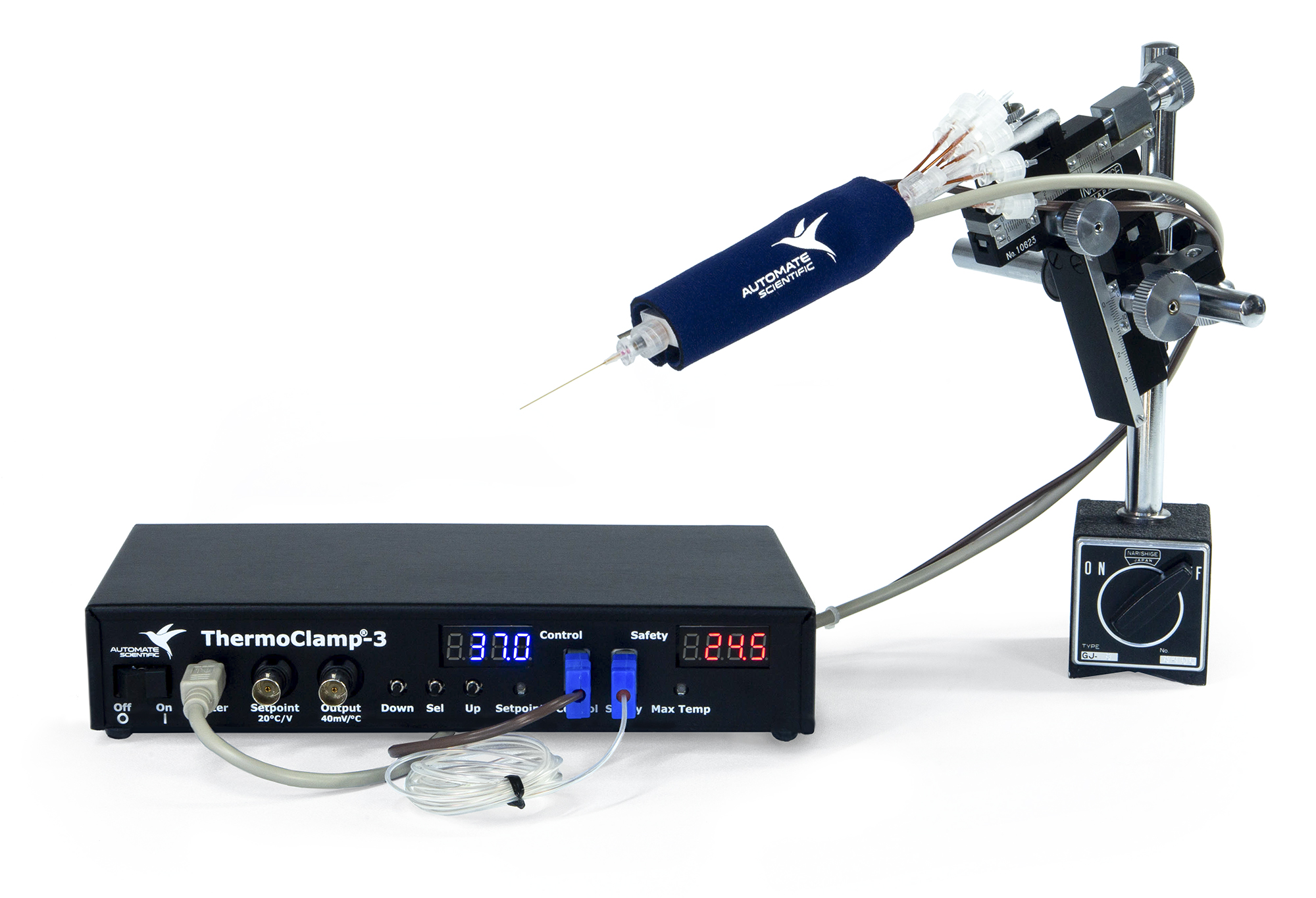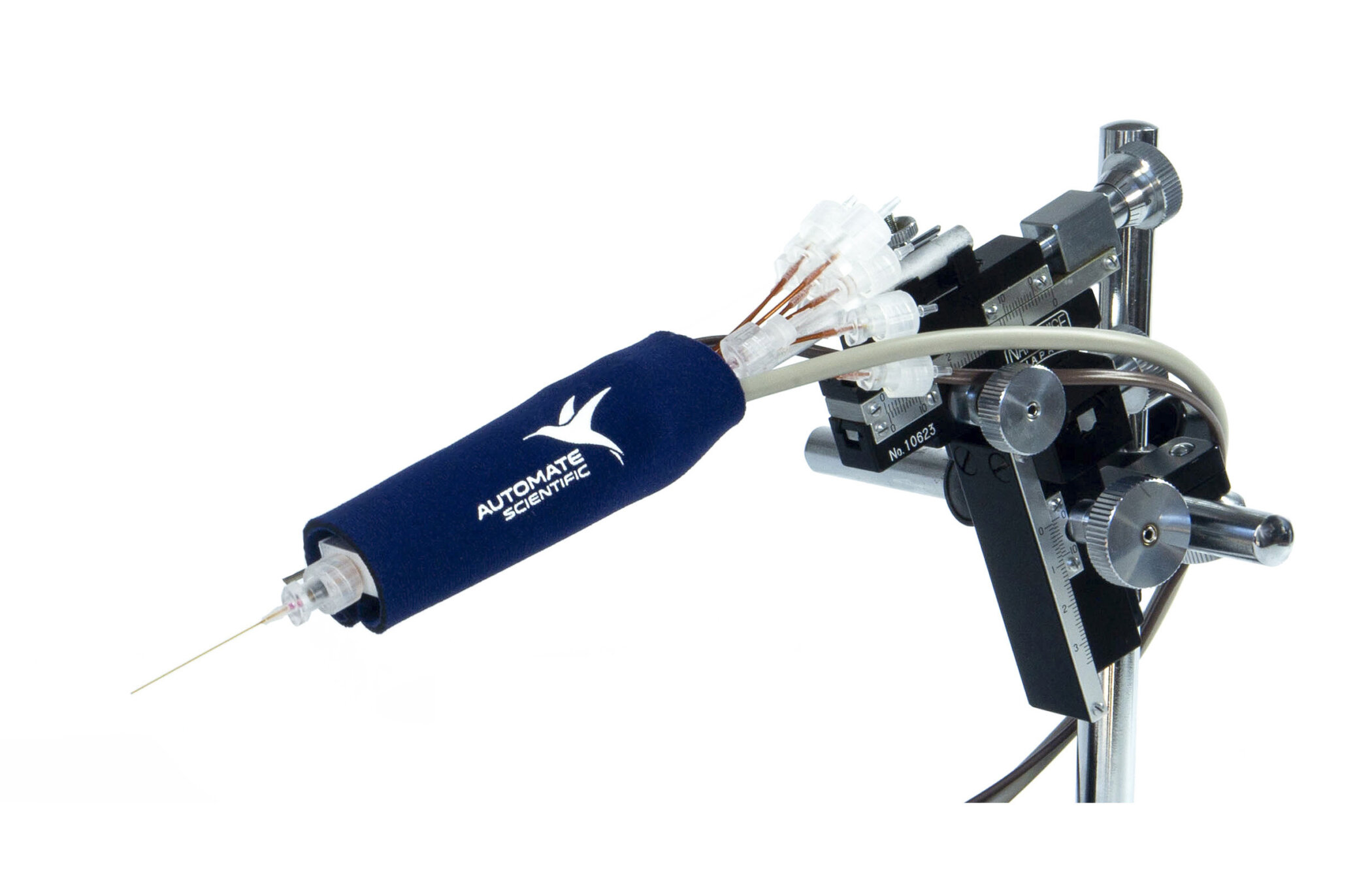 ThermoClamp® Temperature Control System
Combination inline heater plus multi-channel focal drug delivery
Maintain bath temperature and rapid drug wash-out with a high-flow bath line while quickly switching 4-8 preheated solutions through the Perfusion Pencil®. Steady 37°C at 5 ml/minute flow rates through both the bath line and tip.
Advanced auto-tuning temperature lock
Fuzzy logic PID software maintains chamber or reagent temperature to within 1°C of setpoint or better (often ±0.1 ̊C). The ThermoClamp calibrates its own tuning for ideal temperature control – no need to guess "loop speed" settings. Auto-tuning also adjusts the thermal runaway protection automatically.
Designed for physiology research
No metal anywhere in the flow path – unlike some competitors. Extremely low noise (now with analog heating) for electrophysiology with internal and external grounding plus electrical isolation between liquids and heating elements.
For the first time ever: No more overheating when your perfusion stops or you change samples
Three types of user-configurable thermal runaway protection (patent pending) with fuzzy logic constraints. The ThermoClamp-3 and inline heater will detect when perfusion stops, or the sensor is removed from the chamber. It will automatically maintain the current temperature without overheating until the problem is corrected. You can even set the sensitivity in three different ways.
Thermal Runaway means a temperature controller has lost contact with the feedback sensor and keeps increasing the heat until a maximum temperature is reached because the controller thinks your cells are too cold.
The ThermoClamp can be used with one or two temperature sensors. There is always a "Safety" sensor on the heater, and an optional "Control" sensor in your bath. Using two sensors is more accurate but causes thermal runaway if the perfusion stops or the bath sensor comes out of the chamber.
The patent-pending ThermoClamp-3 is the world's first and only physiology temperature controller that detects and prevents thermal runaway.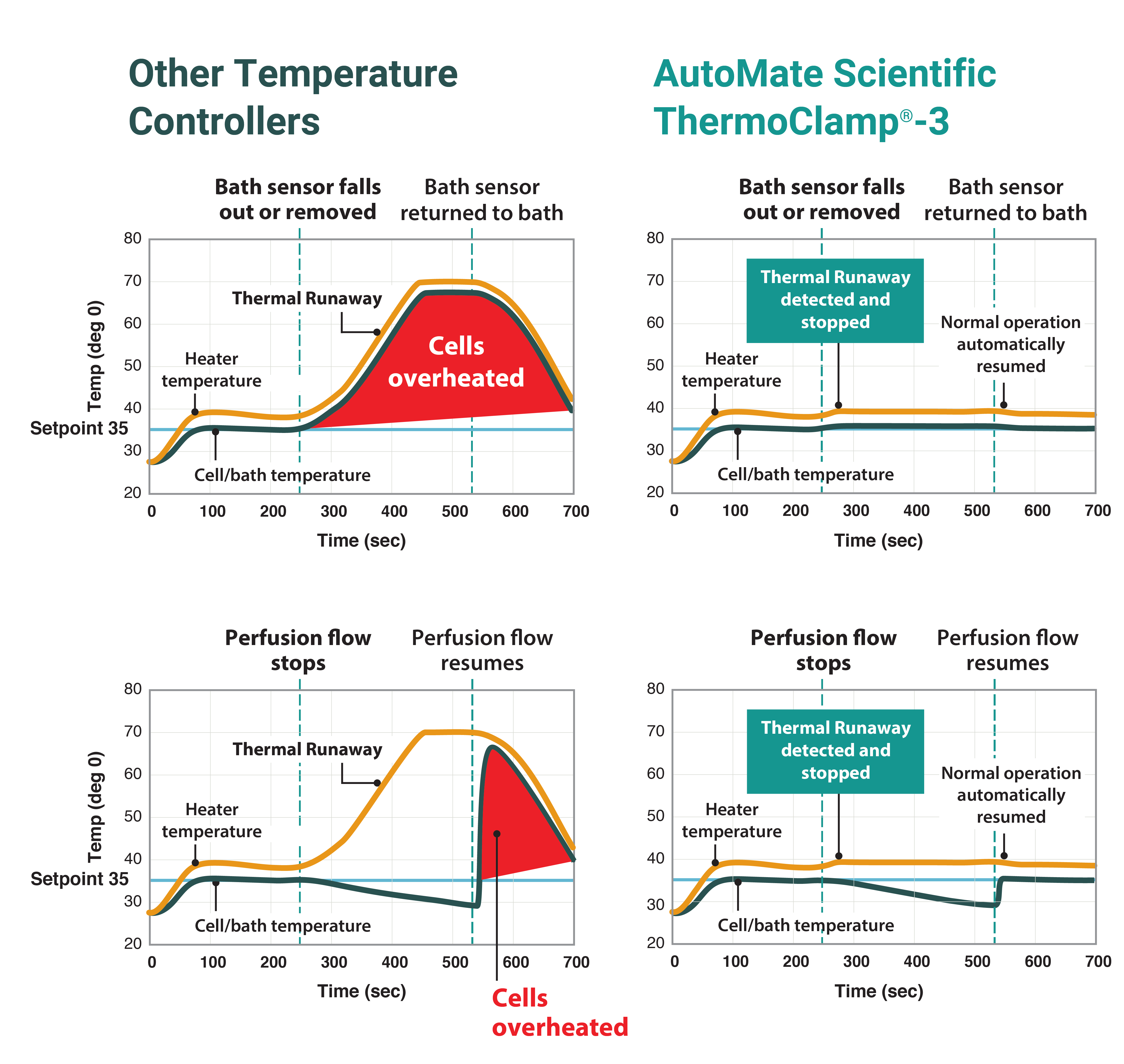 Additional Features
• Smart voltage setpoint: digital, analog (BNC) or automatic – easily control the temperature from your electrophysiology software
• Separate displays for both temperatures (control sensor and safety sensor)
• Constant USB/serial data stream output – to record temperature and experimental conditions
• Automatic heater failure detection and prevention – for longer life and more reliable heating
• Utilization of the safety sensor as secondary input for more accurate feedback control
• Over-temperature protection
Ready to use
Includes everything you need for heated perfusion: power supply, temperature sensors, and inline heater with easy Luer lock tube connections.
You can have rapid switching, fast wash-out, and accurate temperature control at the same time. Set the ThermoClamp temperature from ambient to 65°C. A front-panel BNC provides an analog output of current temperature for recording. Different sizes of replaceable tips are interchangeable with our standard Perfusion Pencil. The tips have microliter dead volume for rapid switching. See ThermoClamp Flow Rates on the Perfusion Pencil. No messy water jacket is required, but the separate high-flow line is capable of heating a perfusion chamber with water jacket if desired.
The ThermoClamp system includes bath and Perfusion Pencil thermocouple sensors. Automatic overtemp and thermocouple failure protection alerts you to any problems. Incorporate temperature control into your perfusion rig with simple micromanipulator mounting.
Operation
Connect multiple reagent tubes from any perfusion system to the heated Perfusion Pencil on a manipulator directed into your chamber. If desired, connect a separate buffer line to the "high-flow" bath Luer connection on the Pencil, and the outflow to your chamber. If your chamber includes a water jacket, you can use the high-flow line with a constant flow of water to heat the chamber. Place the bath thermocouple sensor in the chamber. Set your desired temperature on the controller and begin liquid flow. The ThermoClamp will monitor bath temperature and heat the liquids flowing through the Perfusion Pencil to keep the chamber at exactly the desired temperature. Your perfusion system can quickly change solutions through the Perfusion Pencil tip and also deliver buffer for fast wash-out. Sophisticated circuitry will "auto tune" the ThermoClamp heating parameters based on your flow rates, chamber, and tubing to clamp the temperature and minimize over/undershoot.
ThermoClamp-3.2
Dual-channel ThermoClamp-3.2 for simultaneous heating of Perfusion Pencil® inline heater and microscope stage.

Zero Dead Volume Pencil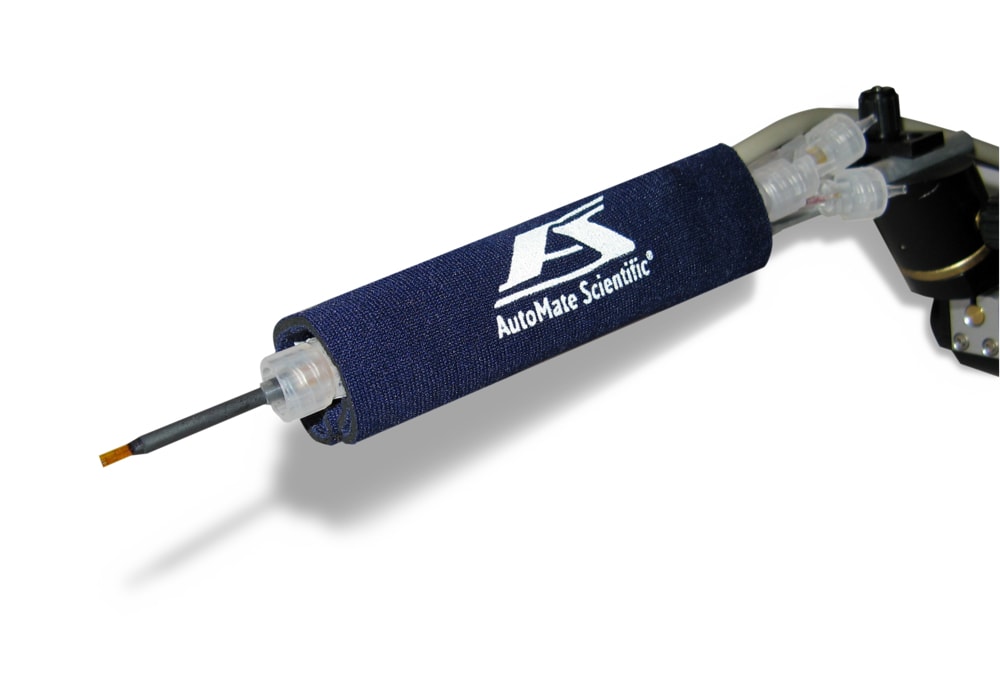 All AutoMate Scientific Perfusion Pencils (ThermoClamp, SmartSquirt® and regular Perfusion Pencils) are now available in a "Zero Dead Volume" configuration with all internal tubes extended 2 cm out of the tip. The "ZDV" Pencils do not use removable tips since all of the tubes go all the way to your prep. This eliminates the possibility of backflow and decreases solution switching times down to nearly zero.
Heated Perfusion Pencil with Neoprene Sleeve Removed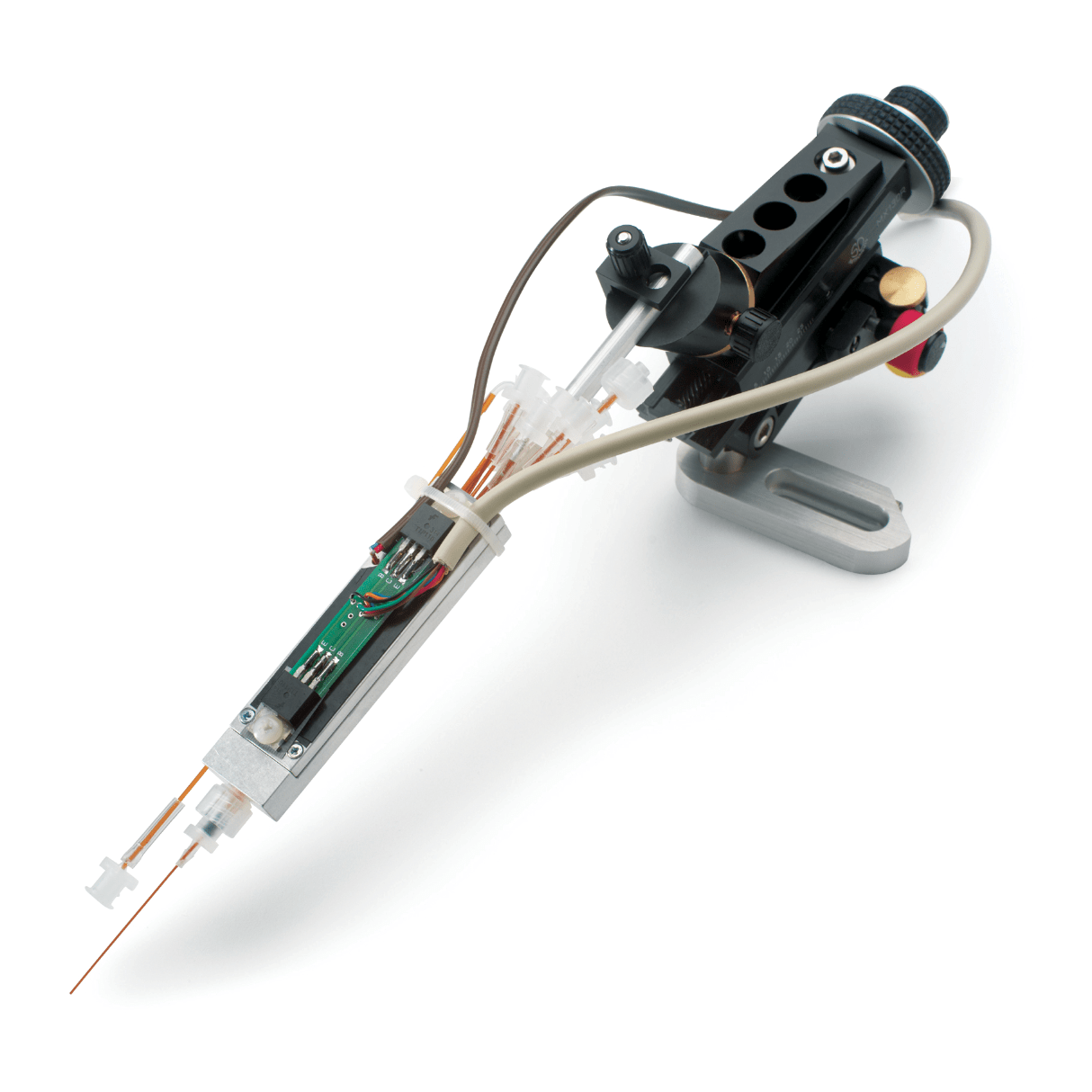 Easy Luer-lock connections and manipulator mounting. Thermodynamic design maintains temperature with 5ml/minute flow from both tips without any metal tubing.
Temperature Sensors Included
Separate chamber bath and Perfusion Pencil thermocouples included.
Easy to Read or Record
Large LED 0.1°C temperature display
Analog temperature output
ThermoClamp-3.1
Dimensions: 9.6″ x 2″ x 4.75″  (24 x 5 x 12 cm)


Weight: 1.5 lbs. (0.7 kg.)
Low noise – designed for electrophysiology.
References – ThermoClamp