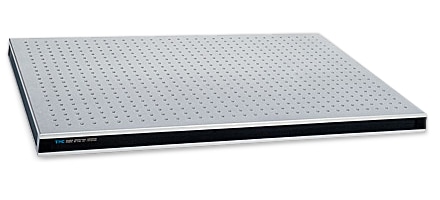 Breadboards
Another in a long line of TMC innovations, our 75 Series Breadboards minimize both weight and cost. A patented manufacturing technique allows us to form countersunk, tapped holes in a thin top skin of stainless steel. The holes are not drilled or punched, but fabricated in a way that effectively "thickens" the skin in a small ring around the threads. No inserts are used and the tapped holes are 3 threads deep.
These tops have relatively high levels of rigidity, as they utilize our standard steel core. They are ideal when light loads are anticipated and low weight and/or cost are the most crucial factors.
This lightweight design is available from stock in the sizes listed below. A full range of sizes and materials is available on a custom basis.
Features
Ultra-lightweight design weighs less than 9 lbs/ft2 (44 kg/m2).
Ferromagnetic Stainless steel top and bottom skins.
Aluminum and carbon steel versions available.
Very low prices, even in low quantity.
Formed holes are countersunk and tapped 3 threads.
Formed holes in top skin add to rigidity.
CleanTop® individual cups under each hole make the core spill-proof.
How To Order
Choose the size of the top that you need from the chart below.
Choose the specific size breadboard that you require.
Contact AutoMate Scientific for purchasing and shipping information.
675 Series Lightweight Breadboards Ordering Chart

Note: Only the most common stocked sizes are listed. A full range of sizes is available.
Specifications
Core
Steel honeycomb, closed-cell, 0.010 in. (0.2mm) thick foil
Core Shear Modulus
275,000 psi
(19,300 kg/cm2)
Core Cell Size
(3cm2)
Core Density
13.3 lb/ft3
(230 kg/cm3)
Flatness
± 0.005 in.
(0.13mm)
Top Skin
430 series stainless steel, 0.075in.
(2 mm) thick
Bottom Skin
400 series stainless steel, 0.075in.
(2 mm) thick
Sidewalls
High-pressure laminate
Tapped Holes
Backed by individual CleanTop cups; 3 threads